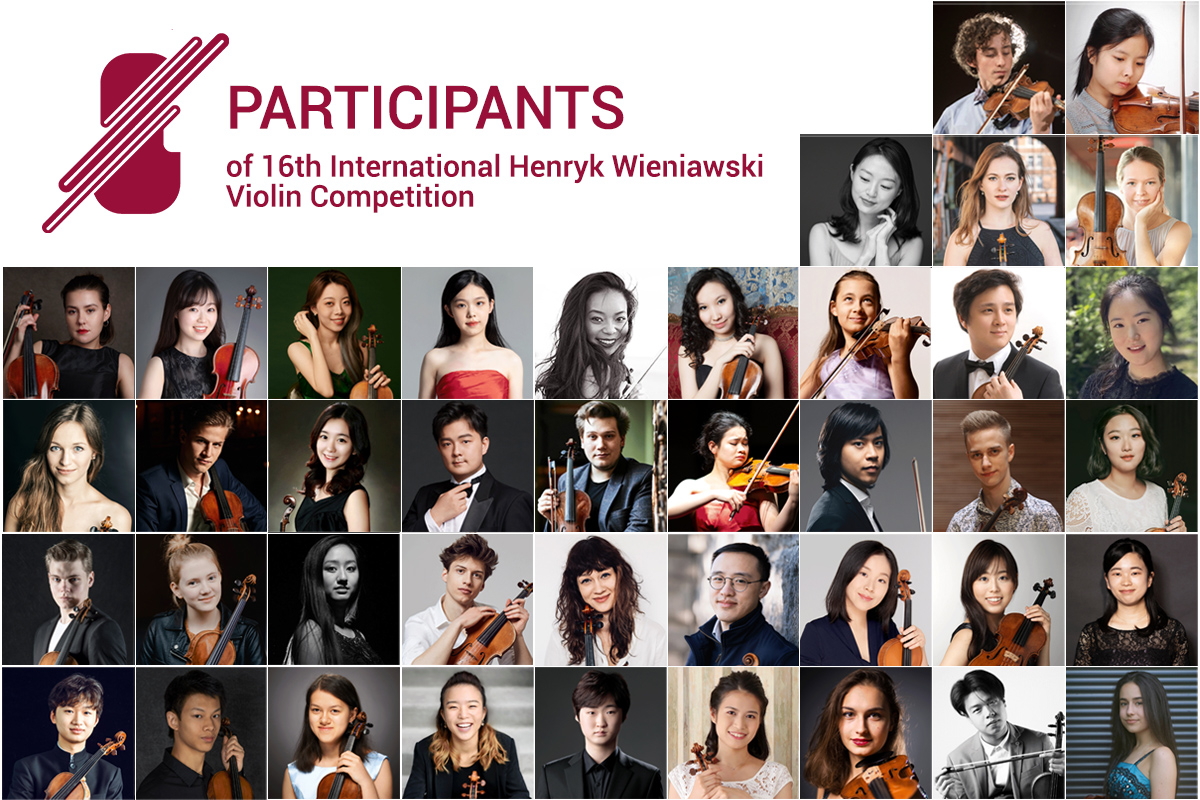 Data publikacji / 2022-04-29
By the decision of the Pre-Selection Jury, composed of Augustin Dumay - the Chairman, Daniel Stabrawa - the Deputy Chairman and Madeleine Carruzzo, violinists qualified to the 16th International Henryk Wieniawski Violin Competition in Poznań are as follows (in alphabetical order):


1. Phoenix Avalon, USA - resignation
2. Hana Chang, Japan / Singapore / USA
3. Jane (Hyeonjin) Cho, South Korea
4. Larissa Cidlinsky, Germany - resignation
5. Hawijch Anna Elia Elders, the Netherlands
6. Klara Gronet, Poland
7. Natsuki Gunji, Japan
8. Xiang Han, China - resignation
9. Yiyang Hou, China
10. Sirena Huang, USA - resignation
11. Meruert Karmenova, Kazakhstan
12. Maya Alexandra Kasprzak, Japan / Germany / Poland
13. Sungmoon Kim, South Korea - resignation
14. Alexander Won-Ho Kim, South Korea / Germany
15. Judyta Kluza-Sporniak, Poland
16. Paul Kropfitsch, Austria
17. Miyeon Lee, South Korea - resignation
18. Hao Li, China - resignation
19. Robert Łaguniak, Poland - resignation
20. Hina Maeda, Japan
21. Elias David Moncado, Germany
22. Wojciech Niedziółka, Poland
23. Sueye Park, South Korea
24. Tassilo Probst, Germany
25. Charlotte Spruit, the Netherlands
26. Karen Su, USA
27. Adam Suska, Poland
28. Sulamita Sara Ślubowska, Poland
29. Max Tan, USA
30. Belle Ting, Austria
31. Natsumi Tsuboi, Japan - resignation
32. Ayaka Uchio, Japan
33. Shihan Wang, China / Germany
34. Qingzhu Weng, China
35. Maya Wichert, Japan / Germany
36. Katherine Woo, USA - resignation
37. Dayoon You, South Korea
38. Takako Yumiba, Japan
39. Eva Zavaro, France
40. Zhixin Zhang, China
41. Barbara Ewa Żołnierczyk, Poland
Congratulations to all of the violinists!
[update 3.10.2022]
Pre-Selection Jury (Augustin Dumay, Chairman; Daniel Stabrawa, Deputy Chairman; and Madeleine Carruzzo) have selected violinists representing such countries as Austria, China, France, Germany, Japan, Kazakhstan, Korea, the Netherlands, Poland, Singapore and the United States to take part in the Wieniawski Competition.
Two hundred and twenty-four violin players from thirty-four countries made their applications for the musical tournament. Due to COVID-19 restrictions, preliminary selections were based on submitted recordings. Each applicant was required to make recordings of four compositions selected from the difficult preliminary selection programme. Competition was fierce.
The jury highly praises the level of this year' edition. "After listening to the young violinists wishing to compete in the next Wieniawski Competition, how not to be impressed by an exceptional overall level, and above all by the appearance of some outstanding musical personalities and individualities. The 2022 Wieniawski Competition will be exciting and captivating" – Augustin Dumay, Chairman of the Jury summed up the preliminary round.
International Henryk Wieniawski Violin Competition is a hallmark of the town of Poznań and the region of Wielkopolska, as well as a most important event in Polish cultural life, one of truly global reach, particularly in the modern-day era of mass communication. Organised since 1935 and ranked among the oldest and most prestigious violin events in the world, the Wieniawski cultivates the memory of the outstanding violinist and composer.
"We endorse the Competition on daily basis: after all, it is Henryk Wieniawski who welcomes guests from all over the world as they arrive at the Poznań Airport, to which he is patron, while the Municipality of Poznań, permanent backer of Henryk Wieniawski Society's operation, supports numerous activities intended to promote the violinist's person and work. All the more cordially welcome to the capital of the Wielkopolska Province in October" – says Jędrzej Solarski, Deputy Mayor of the Town of Poznań.
Preparations for the Competition enter the final phase, in which Henryk Wieniawski Musical Society enjoys support from National Institute of Music and Dance. "Our Institute fosters development of artists, as well as promotes the legacy of Polish music. Occasions like these provide splendid opportunities to show the world what is best in Polish culture. Hence, it is with pride that we make our contribution to the organisation of such an excellent event, one that has already become part of Polish history," says Katarzyna Meissner, Director of National Institute of Music and Dance.
The Competition, which will be held at Adam Mickiewicz University Auditorium in Poznań, opens on 7 October with a concert starring Veriko Tchumburidze, winner of the previous edition, and the Warsaw Philharmonic conducted by Andrzej Boreyko. "Welcome, everyone, to a true musical feast. The concert features Violin Concerto in A Minor, Op. 53 by Antonín Dvořák, and the "Rebirth" Symphony by Mieczysław Karłowicz. On Andrzej Boreyko's motion, we appended the programme with a piece by the Ukrainian composer Victoria Polevá as a sign of the Competition's solidarity with the Ukrainian people so severely experienced by war and Russian occupation" – declares Alina Kurczewska, Chair of Henryk Wieniawski Musical Society.
Competition auditions will be held between 8 and 20 October. The Gala and Prize-Winner Concert is scheduled for October 21 in Poznań. On 23 October 2022, the Gala will be re-staged at the Warsaw Philharmonic.
Organised by Henryk Wieniawski Musical Society of Poznań in collaboration with National Institute of Music and Dance, the event is co-funded by the Ministry of Culture and National Heritage, with financial assistance from the Municipality of Poznań and Self-Government of the Province of Wielkopolska.