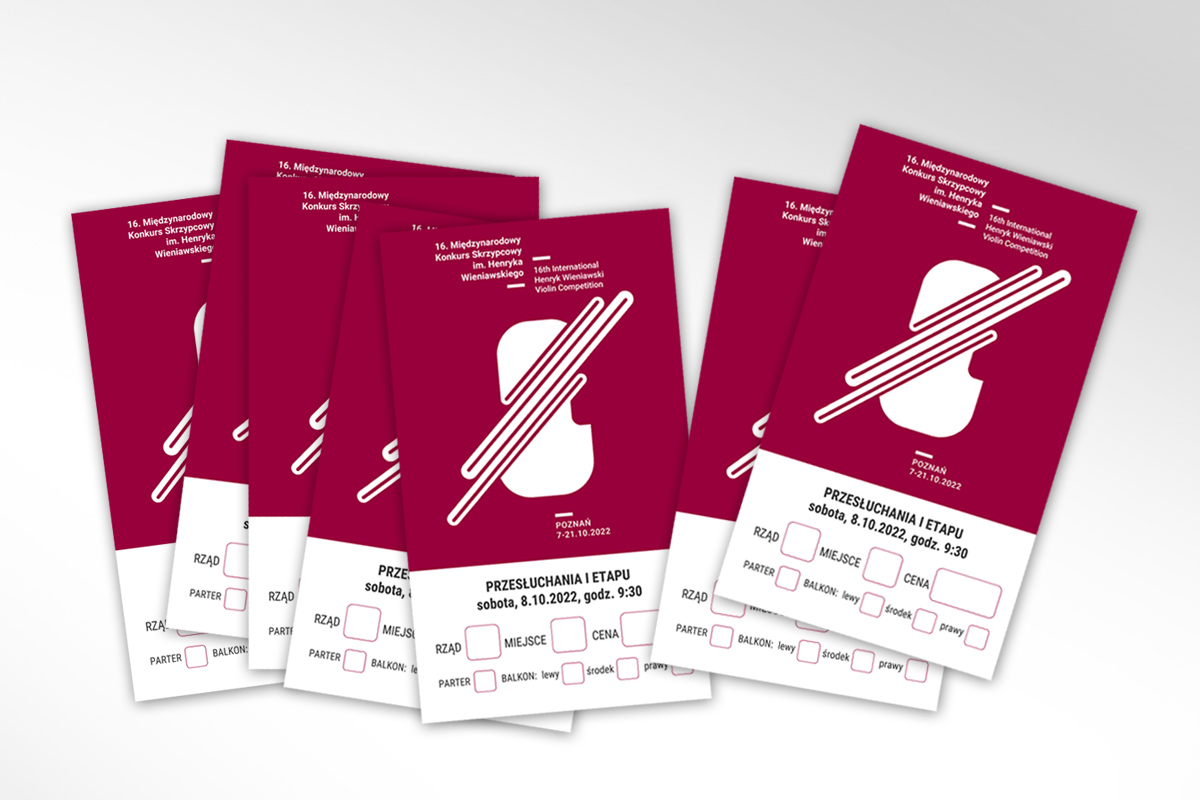 Data publikacji / 2022-07-04
Ticket sales schedule:
STAGE 1 auditions (BUY ONLINE) and Subscription Tickets* | as of 4/07/2022
In Stage 1, Participants perform Caprices of Henryk Wieniawski and Niccolò Paganini and a piece for solo violin by Johann Sebastian Bach, as well as 4th movement of Sonata No. 10 in G major, Op. 96 by Ludwig van Beethoven and a selected piece by Henryk Wieniawski (with piano).
STAGE 2 auditions (BUY ONLINE) | as of 07/11/2022
First part of Stage 2 features a sonata for violin and piano, a composition of choice (lists of sonatas and compositions of choice available in a tab "Competition Program"), as well as a piece by Karol Szymanowski (one part of "Myths", Op. 30 or Romance in D major, Op. 23).
In the second part of Stage 2, participants perform Sinfonia Concertante in E flat major, KV 364 with Amadeus Chamber Orchestra of Polish Radio conducted by Anna Duczmal-Mróz.
STAGE 3 auditions (BUY ONLINE) | as of 18/07/2022
Competition finalists perform one of the concertos by the competition patron, Henryk Wieniawski (Violin Concerto No. 1 in F sharp minor, op. 14 or Violin Concerto No. 2 in D minor, op. 22), as well as one of the violin concertos of choice (Beethoven, Brahms, Dvořák or Mendelssohn) with the accompaniment of the Poznań Philharmonic Orchestra conducted by Łukasz Borowicz.
Opening Concert (BUY ONLINE) | as of 25/07/2022
Prize-Winner Concert (BUY ONLINE) & Second Prize-Winner Concert in Warsaw | as of 1/08/2022
September / October 2022 – extra pool for Prize-Winner Concert
____________________________________________
Under-26 students, and pensioners are entitled to reduced-price tickets.
* Persons interested in subscription or group tickets are requested to contact the Organizer's office:

Henryk Wieniawski Musical Society
ul. Świętosławska 7, Poznań
phone: +48 61 852 26 42
barbara@wieniawski.pl