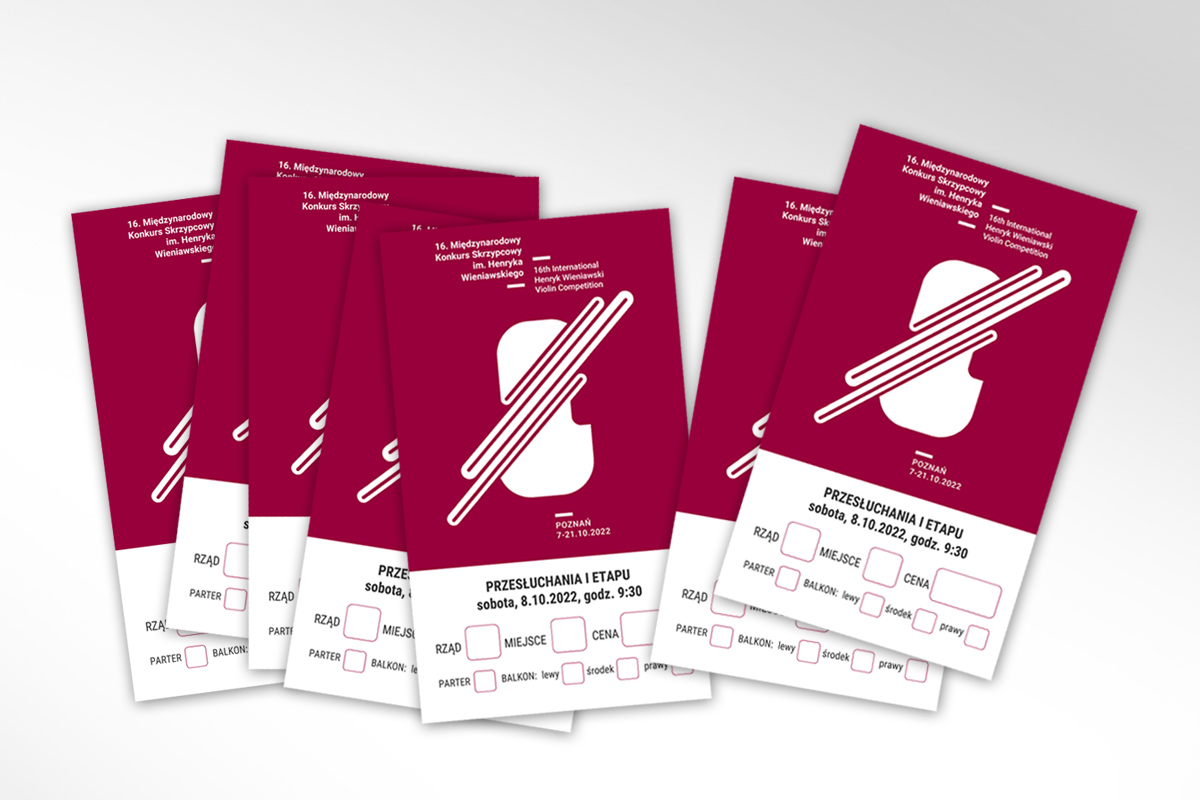 Data publikacji / 2022-09-27
Tickets for the 16th International Henryk Wieniawski Violin Competition can be purchased at the ticket office of the Adam Mickiewicz University Auditorium in Poznań or by Internet, via the bilety24 service.

Ticket Office
Address: Adam Mickiewicz University Auditorium, Street Wieniawskiego 1, 61-712 Poznań
Opening hours: Mon. to Fri., 1:00 p.m. to 5:00 p.m. During the Competition, the ticket office is open one hour before the auditions.
Tel.No.: +48 502 709 992
Please note that different pools of tickets are available online and at the ticket office.
Payment in cash only at the ticket office.
__________________________
Ticket sales schedule
STAGE 1 auditions (BUY ONLINE) and Subscription Tickets* | as of 4 July 2022
In Stage 1, Participants perform Caprices of Henryk Wieniawski and Niccolò Paganini, a piece for solo violin by Johann Sebastian Bach, 4th movement of Sonata No. 10 in G major, Op. 96 by Ludwig van Beethoven, and a selected piece by Henryk Wieniawski (with piano).
STAGE 2 auditions (BUY ONLINE) | as of 7 July 2022
First part of Stage 2 features a sonata for violin and piano, a composition of choice (lists of sonatas and compositions of choice available in tab "Competition Program"), and a piece by Karol Szymanowski (one part of "Myths", Op. 30, or Romance in D major, Op. 23).
In the second part of Stage 2, participants perform Sinfonia Concertante in E flat major, KV 364 with Amadeus Chamber Orchestra of Polish Radio conducted by Anna Duczmal-Mróz.
STAGE 3 auditions (BUY ONLINE) | as of 18 July 2022
Competition finalists perform one of the concertos by the competition patron (Violin Concerto No. 1 in F sharp minor, op. 14, or Violin Concerto No. 2 in D minor, op. 22), as well as one of the violin concertos of choice (Beethoven, Brahms, Dvořák or Mendelssohn) with the accompaniment of the Poznań Philharmonic Orchestra conducted by Łukasz Borowicz.
Opening Concert (BUY ONLINE) | as of 25 July 2022
From Wednesday, October 5, passes to the Opening Concert in a price of PLN 50 are available at the AMU Auditorium ticket office.

Prize-Winner Concert (BUY ONLINE) | as of 1 August 2022
& Re-Run in Warsaw (BUY ONLINE) | as of 13 September 2022