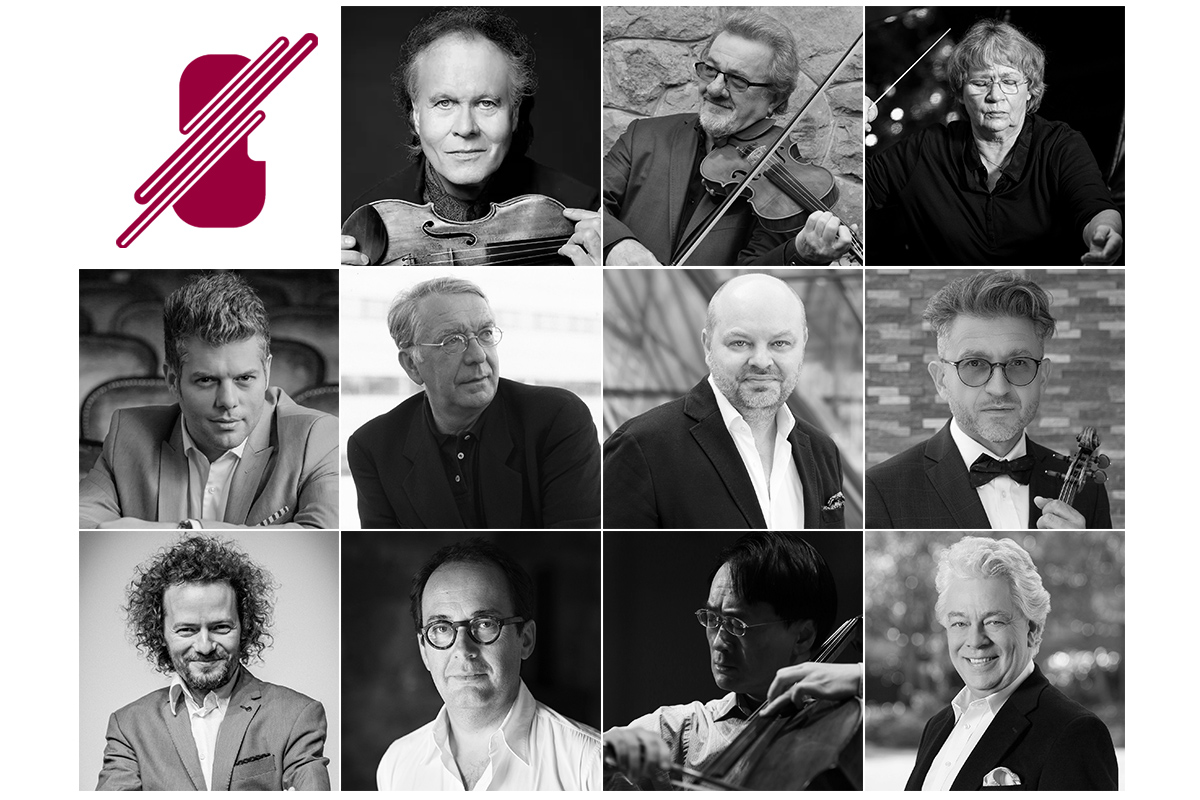 Data publikacji / 2022-09-08
Jury of the 16th International Henryk Wieniawski Violin Competition:
Augustin Dumay – Chairman
Violinist and conductor originally from Paris. He first came into the public eye after his meeting with Herbert von Karajan, his concerts with the Berliner Philharmoniker and his recordings for EMI. Since then, he has regularly performed with the world's most distinguished orchestras. In the last decade, he has focused not only on his career as a violinist, but has also devoted much attention to conducting. Since 2004, he has been Master-Resident Conductor at the Queen Elisabeth Music Chapel, where he teaches a group of talented young violinists. He has 40 recordings to his credit, most of which have been honored with awards such as Gramophone Awards, Audiophile Audition, Grand Prix du Disque and The Record Academy Award. He recently recorded Beethoven's Concerto with Sinfonia Varsovia and Bartók's Second Concerto with the Montreal Symphony Orchestra.
Daniel Stabrawa – Deputy Chairman
Polish violinist and conductor. He began his musical career as concertmaster of the Polish Radio and Television Orchestra in Cracow. In 1983 he became a member of the famous Berlin Philharmonic Orchestra, for which he was the first concertmaster and soloist for 35 years. Together they played, among others, Sergei Prokofiev's Violin Concerto No. 1, Kurt Weill's Violin Concerto, Jenő Hubay's Violin Concerto No. 3 and, sensationally, Karol Szymanowski's Violin Concerto No. 1. From 1995 to 2002 he held the position of artistic director and conductor of Capella Bydgostiensis, with which he recorded several albums for CD Accord and Cavalli-Records. He was also primarius of the Philharmonia Quartet Berlin string quartet, which performed in concert halls around the world. The quartet has recorded many albums, some of which have won awards, including twice the prestigious German critics' award, Echo Klassik.
Agnieszka Duczmal
Polish conductor. As early as when she was a student, in 1968, she founded the Pro Musica chamber orchestra, which in 1977 became a full-time ensemble of the Polish Radio and Television, and in 1988 took the name of "Amadeus" Polish Radio Chamber Orchestra. Agnieszka Duczmal has been the orchestra's artistic director and conductor since its inception. With it, she has participated in many European festivals, performed in Europe, the Americas and Asia and recorded more than 50 albums. Agnieszka Duczmal was the first woman conductor to perform on the stage of Milan's La Scala. She has been honored with, among others: the ZAIKS Association Award for the promotion of Polish contemporary music (2016), Golden Fryderyk in the category of classical music lifetime achievement award (2018) and Polish Radio Award, the Diamond Baton (2021).
Barnabás Kelemen
Hungarian violinist and conductor. He recorded all of Bartók's works for violin in a series of albums created under the direction of Zoltán Kocsis. Some of them were recognized with the 2013 Gramophone Award and the Grand Prix du Disque. In addition, he has been awarded at such competitions as the Mozart International Violin Competition in Salzburg (1999), the Indianapolis International Violin Competition (2002) and the Queen Elisabeth Violin Competition in Brussels (2001). He has performed in concert halls around the world with the BBC Symphony Orchestra, the Hungarian National Philharmonic Orchestra, the London Symphony Orchestra and the Hong Kong Philharmonic Orchestra, among others. With Katalin Kokas, he founded the Festival Academy Budapest Chamber Music Festival, of which he is the artistic director. From 2010 to 2018, he was the leader of the Kelemen Quartet.
René Koering
French composer, film producer and theater director. He has written numerous operas, including "Elsinore" (1980), "Radetsky Marche" (1988) and "Scènes de Chasse" (2007), and orchestral works, including "Le cercle Kleist" (1995), "Concerto pour violon" (1999) and "Concerto pour piano" (2015). He was director of France Musique from 1981 to 1985, and music director of Radio France between 2000 and 2005. He founded the Festival de Radio France et de Montpellier Languedoc-Roussillon, which he led for 26 years. He was also director of the Orchestre National de Montpellier. He has received many awards for his work, among them the Grand Prix de Musique Symphonique awarded by SACEM and the Grand Prix Musique de la SACD.
Grzegorz Kotow
Music impresario, culture promoter, violinist, founder of "Liu Kotow International Management & Promotion" after a 20-year international concert career. As a manager, he works with both world-class artists and talents of the younger generation, such as violinist Bomsori Kim and pianist Bruce Liu. Prior to his work as a manager, he was a founding member of the Szymanowski Quartet, with which he regularly performed in concert halls around the world – New York's Carnegie Hall, London's Wigmore Hall, the Concertgebouw in Amsterdam, the Musikverein and Konzerthaus in Vienna, the Philharmonie de Paris, and regularly appeared at international festivals, including the BBC Proms, Rheingau, Schleswig-Holstein, Schwetzingen, Schubertiade, and Lockenhaus. He has won top prizes at many music competitions, including Melbourne, Osaka, Florence, Munich and Weimar, and has recorded for Decca, Hyperion, Haenssler, SWR Classics and Avie. He was a lecturer at the Hochschule fuer Musik, Medien und Theater Hannover.
Bartłomiej Nizioł
Polish violinist and educator. He has been a juror at the Henryk Wieniawski International Violin Competition twice already, in 2006 and 2011. Earlier, in 1991, he was awarded first prize at the competition. He has won numerous international competitions in Adelaide, Pretoria, Brussels and Paris. He has been awarded the Fryderyk Award four times for his recordings of works by Henryk Wieniawski, Grażyna Bacewicz, Eugène Ysaÿe and Karol Lipiński. In 2014, together with Denis Severin and Tatiana Korsunskay as the Spyros Piano Trio, he recorded the album "Luise Adolpha Le Beau," which was awarded the prestigious Echo Klassik Prize. As a soloist, he has performed with orchestras such as the National Philharmonic Orchestra in Warsaw, Sinfonia Varsovia, NOSPR in Katowice, Berlin Symphony Orchestra, NDR in Hannover and Radio France in Paris. Since September 2008, he has been a professor at the Hochschule der Künste Bern.
Mariusz Patyra
Polish violinist. In 2001 he was the first Pole to win the "Premio Nicolo Paganini" in Genoa. He is also a prizewinner of the J. Joachim International Violin Competition in Hanover (1997), a finalist in the International Stradivarius Competition in Cremona (1988), winner of the Fourth Prize and Special Mention of the Odense Symphony Orchestra at the Carl Nielsen International Violin Competition in Odense (2000) and winner of the J.E.S.C. Foundation Scholarship competition. He has performed in Europe, Japan, the United States of America and South America. He has toured with the Royal Chamber Orchestra Tokyo, Orchestra Fondazione Arturo Toscanini, Orchestra di Roma and the Polish Radio Chamber Orchestra "Amadeus," among others. He has recorded for Polish, German (NDR, WDR) and Italian radio (RAI TRE). He teaches a violin class at the Feliks Nowowiejski Academy of Music in Bydgoszcz.
Miguel da Silva
French-Swiss musician and educator. In 1985 he won the 1st Grand Prix at the International Chamber Music Competition in Paris. Together with friends, he founded the Ysaÿe Quartet, with which he toured the world for thirty years. As a soloist, he has performed with the Paris Chamber Orchestra, the Polish Chamber Orchestra, the Orchestre d'Auvergne and the Ferenc Liszt Orchestra of Budapest, among others. He has recorded albums with the labels: Accord, Valois-Auvidis and Harmonia Mundi, and created his own, Ysaÿe Records. In 1994, he founded the first string quartet class at the Conservatoire National à Rayonnement Régional de Paris. He is also a professor at the Musikhochschule Lübeck and the Haute Ecole de Musique de Genève. In 2009, he took over as artistic director of the Académie musicale de Villecroze in France. He is Master-Resident at the Queen Elisabeth Music Chapel in Belgium.
Jian Wang
A cellist originally from China. He has performed with many of the world's leading orchestras, including the London Symphony, Cleveland, Zurich Tonhalle, NDR Elbphilharmonie, Stockholm Philharmonic and Santa Cecilia. He was the first artist-in-residence of the Shanghai Symphony Orchestra and the National Center for Performing Arts in Beijing. He has an extensive discography that includes: "The Baroque Album"(2003), "Brahms Double Concerto" recorded with Gil Shaham and Claudio Abbado (2001) and "Piano Trios" created in collaboration with Maria João Pires and Augustin Dumay (1995). He currently holds the Chair of Cello at the Royal Birmingham Conservatoire. He is also a member of the artistic committee of the Shanghai Symphony Orchestra and the Hangzhou Symphony Orchestra.
Christopher Warren-Green
British violinist and conductor. He has been artistic director and chief conductor of the London Chamber Orchestra since 1988. He chaired the Joenkoeping Sinfonietta from 1998 to 2001 and the Nordic Chamber Orchestra between 2001 and 2005. He also served as music director of the Charlotte Symphony Orchestra. Over the past 50 years of artistic activity, he has conducted outstanding orchestras around the world, including: The Philadelphia Orchestra, Minnesota Orchestra, Detroit Symphony Orchestra, Seattle Symphony, Vancouver Symphony Orchestra and National Symphony Orchestra. He is a member of the Royal Academy of Music, and was a professor there for eight years. He has made numerous appearances on radio and television, most notably at the BBC Proms. He has recorded for such labels as Virgin EMI, Chandos, Deutsche Grammopho and Signum Classics.