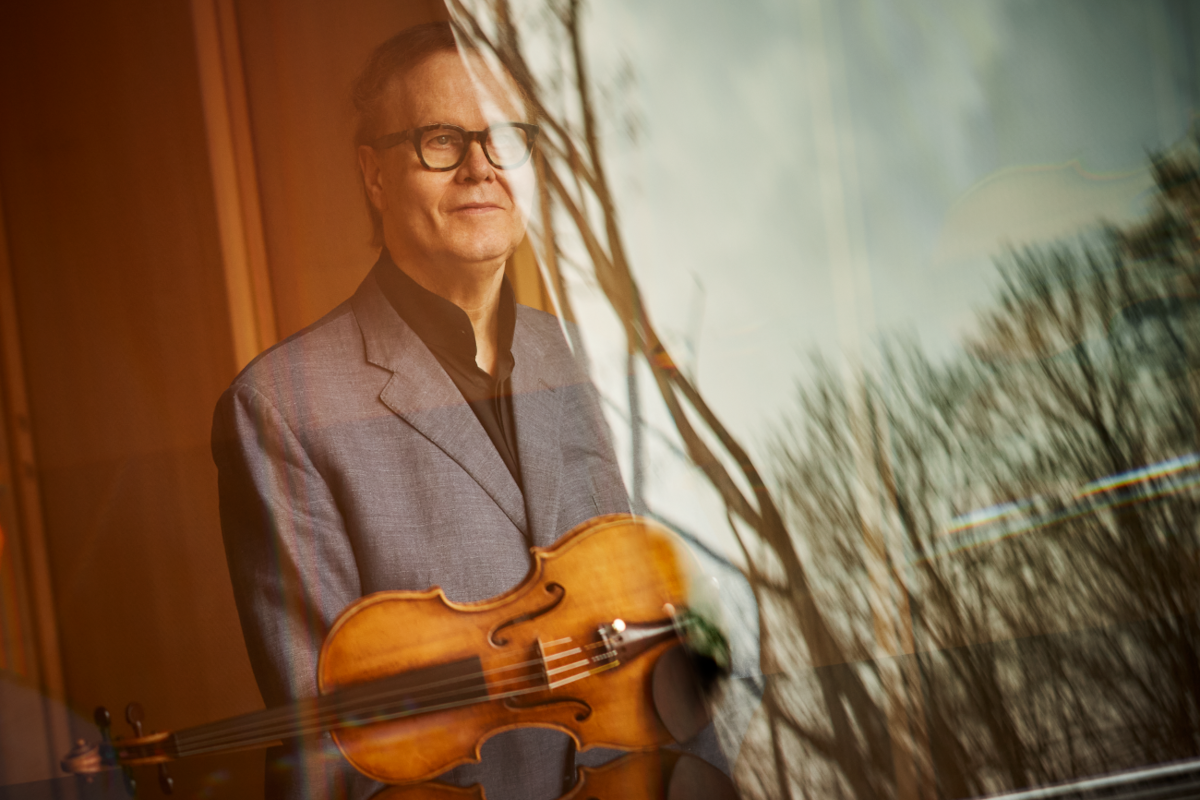 Data publikacji / 2020-02-06
On October 25, 2019, Augustin Dumay gave an interview to a Poznań journalist Paweł Oses in which he talked about changes in the 16th edition of the International Henryk Wieniawski Violin Competition, which will be held in Poznań between 7 and 21 October, 2022.
English and French subtitles are available in the YouTube player's settings.
Why the Wieniawski Competition?
Why am I interested in getting involved with the Wieniawski? Because I think we are at a crossroads. We are at a particularly crucial moment, between the international world of music, and the idea of competitions. And it is for this vital reason that I chose to take up the job: to bring these two worlds together. To make sure that the young performers who come here and are awarded prizes, enjoy more opportunities to integrate with the musical world upon completion of the event. It is my mission.
It is our obligation to use this rivalry to help the world of music.
Augustin Dumay about musical competitions
What is most important in musical expression, cannot be calculated, measured. Let us take the example of painting. How can one determine whether Cezanne is better than Leonardo da Vinci? It is completely impossible.
I believe that competitions should and must help young performers by stimulating them to work hard, to get prepared, as these events constitute significant moments in their lives.
Competitions must enjoy greater visibility in the musical world, which has undergone profound changes, and in which we have many pianists, cellists and violinists who have achieved the level of technical perfection.
A competition today should provide an opportunity to select those who have something to tell us, something to say through music, and not those who are simply dexterous musicians.
We seek people, who will be able to convince us in the future that even after a tiring day we shall still feel like listening to them. Even if I am exhausted, I will take a car or taxi and go to his or her concert, as it is going to change my life for a couple of hours. This is what we are looking for. We seek performers who will usher in something thoroughly exceptional.
Augustin Dumay about the Jury
Today we have to try to understand why great conductors of our time do not hold competitions in esteem, and why they don't do what conductors of David Oistrakh and Ginette Neveu's time did, i.e. why they don't invite young performers who have won competitions. There is something like loss of trust. Why has it come about? We can see it on the Internet, we can listen to what certain performers have to say about competitions. Doubts concerning their integrity are evident. One has the impression that competitions have become professors' events (…) I believe, then, that one has to try to open up the jury, and attract to the body such members who will not be personally interested in the results of the competition. I believe that for the fairness of the event, transparency is of absolute essence.
'(...) I believe one cannot be a judge and a party at the same time. In any event, there exists a considerable danger of being a judge and a party. This is the first reason, for which there will be fewer professors of the violin on the jury. There will be a few, but not ones who are personally interested in ushering their candidates to the event. There will be, say, cellists, violists, pianists, people who are most competent to determine who is and who is not a MUSICIAN' (...)
I want to make sure there are people on the jury who have the musical [organizational] potential to let them engage the competitors they like. Not necessary the winners. For example, if somebody runs or conducts an orchestra and has suitable resources, he may become a mentor for the candidate he likes.
I believe that for a period of time longer than just the length of the competition, jury members should be obliged to take responsibility. They should consider themselves responsible mentors in the young performers' further careers. (…) The general attitude and approach of jury members to the young performers will undoubtedly be completely different.
Augustin Dumay on Wieniawski
I adore Wieniawski. He is an important composer. I wish he had composed more pieces for orchestra, for other instruments. It is a frequent problem when the composer is also a great performer. I think Wieniawski's pieces carry a nobility of feeling, absolute class, and perfect, wondrous intensity. I adore him.
In his lifetime Wieniawski was considered a violinist who was also a composer, but I find him a composer who perfectly played the violin.
Wieniawski moved the boundaries, entered a level of violin virtuosity accessible to but a few.
Augustin Dumay about Poland
It is always great pleasure to be in Poland, a country where music is so popular, which lives with music.
I have enjoyed a lot of intense musical experience here. I am happy to have yet another occasion to be in Poland, and to participate in Polish musical life.